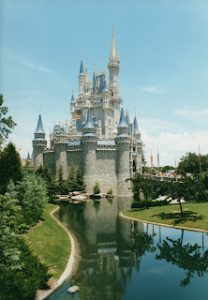 My childhood was spent reading fairy-tales and watching Disney movies. I loved their charm, magic and mystery. They taught me to hope. They taught me to daydream. And I dreamed of finding my own Prince Charming and happy ever after.
When I was about 7 years old my best friend spent her summer holiday in Florida and visited Disney World. She returned with photos full of vibrant colours and tales of amazing adventures. I was in awe. I desperately wanted to go too, but we couldn't afford it. However, my parents made me a promise; one day they would take me.
And they did.
I celebrated my 21st birthday at the Magic Kingdom. We even had a meal at Cinderella's Royal Table, the restaurant in the castle itself.
For one day, I was a Princess.
At the end of the holiday we returned home. All that remained were cherished memories. I may have been a Princess, but I still hadn't found my happy ever after.
Did such a thing even exist?
It seems fitting that this childhood love of Cinderella would eventually inspire the story that has become my debut published novel. 'The Perfect Daughter' is a twisted chilling take on that Cinderella tale.
Real life is rarely a fairy-tale. Life is messy and complicated. People aren't necessarily heroes or villains, but a tangled mixed of both. I started to wonder what if Prince Charming wasn't who he seemed? What if he wasn't really rescuing Cinderella at all? But then, what if she'd never even needed him to change her life? What if that power had always been within her? What if the shy ordinary girl had another side to her character too?
'The Perfect Daughter' is a story of trust, manipulation and the lies we tell ourselves.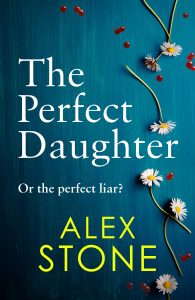 The perfect daughter…
Jess Harper has spent her whole life trying to make her mum, Abigail happy and proud. And everything Jess does, from the clothes she wears, the job she has, the men she dates, are all approved by Abigail first.
The perfect boyfriend…
So when Jess announces that she has a new man in her life – plumber Adam – Abigail is less than impressed. 'A plumber? Really, Jessica….' Adam encourages Jess to break free from her mum's manipulation, can't she see what's happening?
The perfect mother….
But Abigail is only doing these things to keep Jess safe, to protect her from getting hurt again…isn't she?
Or the perfect liar?
Jess, caught in the middle, doesn't know who to believe or trust. And then Adam vanishes without trace.
Now Jess is the police's prime suspect and they want to know if Jess really is as perfect as she seems….
A gripping new psychological thriller for fans of Sue Watson, Shalini Boland and S.E.Lynes

One thing I learned while writing this story was that maybe that happy ever after I'd dreamed of as a girl, wasn't about finding a happy ending, but about finding happiness in the day to day.