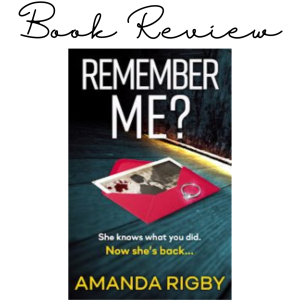 Remember Me? Is the chilling debut psychological thriller from Amanda Rigby.
Paul has a happy life with a new girlfriend and a baby on the way. Ex-fiance Nicole is nothing but a faded memory. He's moved on. After all, Nicole is dead.
Isn't she?
This is a gripping page turner full of suspense and twists which kept me on the edge of my seat. I read it in a weekend as I was so eager to find out what happened! Enthralling, traumatised characters, with obsessive and destructive behaviours, and a fantastic mystery, make this a superb read, which you won't want to miss.
Book Blurb
A perfect life…
Paul Henderson leads a normal life. A deputy headteacher at a good school, a loving relationship with girlfriend Jenna, and a baby on the way. Everything seems perfect.
A shocking message…
Until Paul receives a message from his ex-fiance Nicole. Beautiful, ambitious and fierce, Nicole is everything Jenna is not. And now it seems Nicole is back, and she has a score to settle with Paul…
A deadly secret.
But Paul can't understand how Nicole is back. Because he's pretty sure he killed her with his own bare hands….
Which means, someone else knows the truth about what happened that night. And they'll stop at nothing to make Paul pay…
A brand new psychological thriller that will keep you guessing till the end! Perfect for fans of Sue Watson, Nina Manning, Shalini Boland
Purchase Link – https://amzn.to/3jJ563L
Author Bio –  Amanda Rigby is the nom de plume of the writing partnership between Amanda Ashby and Sally Rigby. Both authors live in New Zealand, have been friends for eighteen years, and agree about everything (except musicals). They decided to collaborate on a psychological thriller which they then entered into a competition, run by Boldwood, which they won!
Social Media Links