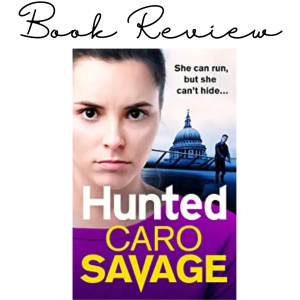 Hunted by Caro Savage is a chilling, fast paced thriller following Detective Constable Bailey Morgan as she tries to catch the killer who is targeting her.
It's the first book I've read by Caro Savage, and I found it to be a well written gripping read, that I couldn't put down.
Book Blurb
Someone is out to murder Detective Constable Bailey Morgan before she can testify in an upcoming trial.
Using her undercover skills, Bailey embarks on a dangerous mission to help the police catch this elusive killer before it's too late.
But it won't be easy for she's up against a cunning and ruthless adversary who will stop at nothing to eliminate her.
A tense game of cat and mouse ensues, leading to a shocking revelation at the heart of which lies the key to Bailey's survival.
Purchase Link – https://amzn.to/3mE2eXz
Author Bio
Caro Savage knows all about bestselling thrillers having worked as a Waterstones bookseller for 12 years in a previous life. Now taking up the challenge personally and turning to hard-hitting crime thriller writing, Jailbird was published by Boldwood in October 2019.
Social Media Links –