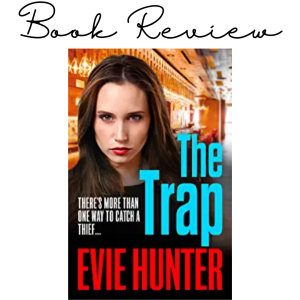 The Trap by Evie Hunter is a well written, gripping read. I devoured it in a day, I just couldn't put it down. Strong characters who I found myself deeply invested in. I had to know what would happen to Callie! Will definitely be reading more from Evie Hunter.
Book Blurb
Callie Devereux has it all – a successful career, a beautiful home and an attentive, loving partner. Until one day, she wakes up to discover that the man she thought she loved has taken everything from her, leaving her penniless. Desperate to get answers, Callie goes after the man she once trusted and discovers a world built on secrets and lies…
Jack Carlisle has never heard of the man Callie Devereaux claims to have once loved, but he has a good idea who it is – his business partner and old friend, Logan Armitage. Jack can't believe Logan would steal, but as he helps Callie to find his old friend, Jack discovers money missing too…
But with Logan missing without trace, there is only option left to catch this thief – to set a trap.
Purchase Link – https://amzn.to/3FseT6h
Author Bio
Evie Hunter has written a great many successful regency romances as Wendy Soliman and is now redirecting her talents to produce dark gritty thrillers for Boldwood. For the past twenty years she has lived the life of a nomad, roaming the world on interesting forms of transport, but has now settled back in the UK.
Social Media Links