When Fliss takes her dog for a walk she neve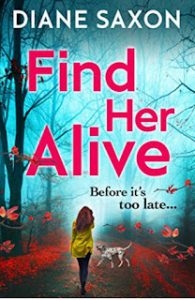 r imagined the consequences of choosing one path over another. But that simple decision places her freedom, and her life, in danger.
Rating: ⭐⭐⭐⭐⭐
Find Her Alive is a captivating read from the start through to the end. Diane Saxon had me completely hooked, as I tried to work out who the mysterious man could be, and what was his connection to Fliss. Even when I figured it out, the tension and anticipation remained as we followed Fliss's sister, DS Jenna Morgan through the police investigation.
I loved the bond between the sisters which resonated through this story. The trauma and loss in their past had made that even stronger and gave them strength through Fliss's ordeal.Diane writes with such passion and you can feel the emotion throughout the novel. Wonderful deep and vivid characters, and a tense, gripping plot.
Overall a powerful 5 star read.
Purchase Link – Find Her Alive: The start of a gripping psychological crime series (DS Jenna Morgan Book 1) eBook : Saxon, Diane: Amazon.co.uk: Kindle Store