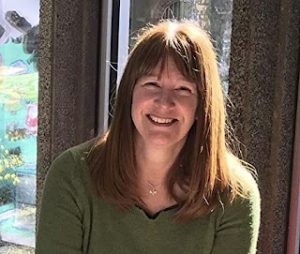 I'm chatting to author Emma Davies today about her writing process and inspiration.
Why writing?
Simply because of my love of reading. I always joke I was born with a book in my hand, and it's not far off the truth! Some of my fondest early memories feature trips to our local library, or being curled up on a Sunday afternoon with a good book. I've always been a very creative person, expressing this in various ways but, as I lost myself in the worlds my favourite authors created, I realised I had just as many worlds in my own head and so I knew from quite an early age I needed to write them down. There is a fascinating alchemy that takes place when you put words on a page, just twenty-six letters, but what magic they can do! Even now, I still marvel at the ability we have to conjure up characters and images so vivid it's as if they're in the same room. It's that magic that continues to draw me in.
Who inspires you?
People. Ordinary people, who live ordinary lives because, actually, when you look at them, they're far from ordinary. People accomplish the extraordinary every day, without ever realising, and their stories and their lives are part of what makes our world go around. I love that – the fact that seemingly everyday events lead to happenings of such importance, with such powerful emotions. It is the stuff of life and that's what inspires me to write.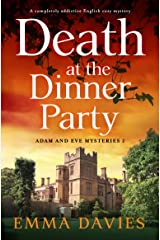 What was you most recent published novel? Tell us about it.
I've just finished a four-book series of cozy mysteries. These aren't my usual genre, but a little like a scratch I had to itch and I've had enormous fun writing them. The Adam & Eve Mysteries feature a professional caterer, Francesca Eve, and her rather quirky sidekick, Adam, who has a natural aptitude for solving puzzles, and, importantly, getting into all sorts of mischief. The most recently published is book two in the series, Death at the Dinner party, which takes place over the course of a weekend house party which Fran has been called in to cater. When the host turns up dead, Fran becomes prime suspect and the race is on to prove her innocent. Meanwhile, with all the guests confined to the house, the real killer still walks among them…
What are you working on at the moment?
I'm just about to embark on a new linked series of three books, not cozy mysteries this time, but a return to my usual genre of contemporary romance. I can't say too much about these at present as it's all a bit under wraps for now, suffice to say, I'm very excited about them!
How long does it take you to write a book? Do you have a word count target per day/week?
I write full time, so I generally write the first draft in about eight to ten weeks, depending on my contract and publication dates. This usually means I'm aiming for around 2000 words a day. I use Scrivener for my first drafts and it's very good at keeping me on target!
What does your writing day look like?
I'm definitely more lark than owl and my creativity flows far more easily first thing. Plus, I love the quiet anticipation of a new morning, so words always come first. If I can, I start early, so I'm finished late morning, but this often becomes lunchtime and beyond! I never want to be totally consumed by my writing to the point that it's all I do, however, so I usually finish writing around lunchtime. Not only do I think it unhealthy, but there are always so many other things I want to accomplish with my day. I usually spend a little time planning what needs to happen during the next writing session and then catch up on some admin but, after that, I'll probably go for a walk or spent some time on whatever other creative projects I have on the go. The evenings are all about reading. I don't have a television so it's an easy decision and as reading is like breathing, I can't go long without it!
Do your books have a message/common theme? If so, what?
I love writing about friendship and community and the strength that can be found in both. The setting of my books are always very integral to these themes and the current work in progress is no exception. I guess you could also say that my books are quite moralistic – the bad guys usually get their comeuppance, and the underdog usually triumphs. But it's also about challenging injustice and having the freedom to be who you want to be, that's really important to me too.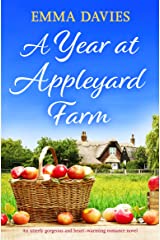 Have you ever done a research trip for your writing? If so, where?
When I was writing A year at Appleyard farm, I visited an orchard and cider maker near Hereford. The book was originally published as four seasonal novellas and the spring story centred around this very thing. I took loads of photos and filled pages with information about the processes involved, the chemistry of producing cider and the varieties of apple trees grown and their cultivation. However, when I came to write the story, I realised that my research would not only be showing it would be waving a banner and sounding a klaxon, and actually all I needed was my senses – how things looked, but also how they felt, smelled and what they sounded like. It was still a really good thing to have done but also highlighted that research is sometimes not what you think it should be! Plus, as a very good friend likes to remind me, everything is research, and he's right.
What's the most interesting thing you have discovered when researching a book? Or something you have learnt from writing?
See above! Aside from that, however, I often find the best research is that which sparks inspiration too, and often literally falls into your lap. Some while ago while reading an article about language, I came across the fact that the Latin for right and left are dexter and sinister respectively. It suddenly struck me how both these words have very different meanings outside of the Latin language, and from that single piece of information an entire book was not only spawned (The Mystery of Montague House), but the words themselves also provided a very neat twist right at the end.
What are you currently reading?
Lessons in Chemistry by Bonnie Garmus, which has been on my towering to be read pile for a while now. It's certainly worth waiting for, however. Prior to that I read The Stranding, by Kate Sawyer, which is stand-out brilliant – a really affecting read, both present and prescient. I highly recommend it.
You can follow Emma on her website and social media:
www.emmadaviesauthor.com
Facebook – www.facebook.com/authoremmadavies
Twitter – @EmDaviesAuthor
Instagram – www.instagram.com/authoremmadavies
Amazon page is here