I'm thrilled to be taking part in the Blog Tour for One Hot Summer by Anita Waller. This is a new author to me, but wow, after this book I am hooked and will be looking for more from Anita Waller.
One Hot Summer is a tense thriller with characters who I felt really connected to and invested in. The ending blew me away. Anita has a skill of writing complex characters who feel so real and their emotions are brilliantly captured.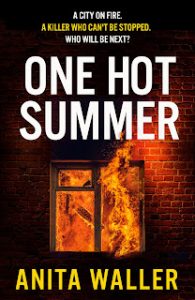 The ending stayed with me long after I'd finished and that is a sure sign of a skilled author.
Definitely a 5 star read.
One Hot Summer
A city on fire. A killer who can't be stopped. Who will be next?
When two teenagers are found dead in a fire, DI Laura Henshall and DS Will Peters are called in to investigate. They believe it was a revenge attack gone wrong.
But soon fires are cropping up everywhere, and the police suspect they're dealing with something much bigger . . . something that could bring the city to its knees.
With time running out, can the detectives find the arsonists before the city goes up in flames?
Purchase Links – https://amzn.to/3QqSkFw
Author Bio –
Anita Waller is the author of many bestselling psychological thrillers and the Kat and Mouse crime series. She lives in Sheffield, which continues to be the setting of many of her thrillers, and was first published by Bloodhound at the age of sixty-nine. Her first book for Boldwood will be published in August 2022.
Social Media Links –
Facebook: https://www.facebook.com/anita.m.waller
Twitter https://twitter.com/anitamayw
Instagram https://www.instagram.com/anitawallerauthor/
Newsletter Sign Up: https://bit.ly/AnitaWallerNews
Bookbub profile: https://www.bookbub.com/authors/anita-waller