A very warm welcome to my guest author today, fellow Boldwood Books psychological thriller author, Gemma Rogers.
My first book Stalker began with Eve, and like many first-time novelists, their main characters are often extensions of themselves. Eve was me and I was her. I poured myself into that character, all my sadness, all my guilt and my rage.
Eve Harding, like me was indecently assaulted on the way to a train station at barely nine o'clock in the morning. When it happened I was just twenty-one and looking forward to a day out shopping with my friend in Guildford. The attack, which took around seven minutes, was life-changing.
Predictably, unable to contain the emotions I felt, I slipped into a bought of depression. All at once the insurmountable guilt of not putting up more of a fight, for it somehow being my fault hit me. I couldn't swallow the tidal wave of sadness, then the roller-coaster onwards to rage at my attacker.
All of the feelings of helplessness were compounded by the police being unable to catch him and knowing he would have gone on to abuse again rendered me frozen. I struggled to move forwards, weeks passed and I barely went out in the daylight, and never after dark alone. Berating myself for all the times I'd zigzagged home at two o'clock in the morning, from the local nightclub, drunk and invincible. I couldn't comprehend how brazen someone had been in the daytime.
Eventually, with the help of a short course of anti-depressants and the support of my family, I found my way out of the black hole I was in. It took time and it was only a few months later I met my husband. He was a massive part of making me see not all men were monsters, he helped me heal and falling in love with him made me adjust my attitude.
It was something that had happened to me but it wasn't my entire identity, however changed I was since the event. I sought help from mental health advisors, talking to a counsellor and trying to be kinder to myself. Most of the feelings of anger, revulsion and guilt I've let go of. The one thing I can't help but react to is when people tell me what they'd do. How they would react if a knife was held to their throat after being dragged down an alleyway. They always proudly say they'd fight their attacker off, but the truth is no one knows what they'd do in that situation, not until they are faced with it.
My attack took me to dark places mentally but I didn't consider writing about it until fifteen years later. I'd since married my husband and had two children. A very different woman from that twenty-one year old girl I'd been. I wish I had considered it earlier as it was so cathartic, pouring all the feelings I had, ones I sometimes didn't care to admit, into the character. It was then that Eve Harding was born.
Although I wanted something for Eve that I never got, justice. The police never caught the man who indecently assaulted me. In my story I wanted Eve to hunt him down. I wanted her to eviscerate him. I genuinely believe the experience of writing her enabled me to become my characters as I write them.
Getting into the mindset of a character, especially if they are a million miles from yourself is tricky but with Eve as my starting point, I knew I could grow to do it. I'd finally found a way to turn a dark aspect of my life into something positive. I was able to stop seeing myself as a victim.
This week I've just finished my seventh novel, The Neighbour, with characters I loved writing, especially the bad ones. It will be published in January. I have a lot to be thankful for since I found myself at the wrong place at the wrong time.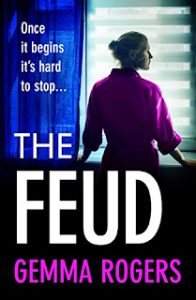 My latest book The Feud came out in May, see the blurb below:
The day my path crossed with Simon Fox I thought I'd already lost everything but then he almost ran me off the road with his flash car and belittling jibes.
The men in my life had undermined me for too long.
Enough was enough.
Fuelled by alcohol and the desire to get even, I decided a spot of petty vandalism would make me feel a whole lot better.
Wrong. Very wrong…
I hadn't realised that Simon Fox was not a man to be messed with.
He showed me just how much I still had left to lose.
Soon I was battling for my home, family and life.
Link to buy: https://amzn.to/3zipwJ0
Author Bio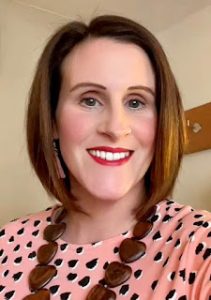 Gemma Rogers lives in West Sussex with her husband and two daughters.
Her love of writing began in her early teenage years, inspired by hours spent buried in Point Horror, Richard Laymon and Christopher Pike with the occasional Judy Blume thrown in for good measure.
Other passions include movies – horrors especially (who doesn't love a good scare), country walks, swimming and anything involving cake.
Her debut novel Stalker was released on the 10th September 2019, quickly followed by The Secret in January 2020, and The Teacher in May.
The Feud, Gemma's latest novel, came out in May of this year. Gemma is currently working on edits for her seventh book.
All are standalone titles.
Follow her on:
Newsletter sign up here for exclusive news: https://bit.ly/3hwXjE7
Twitter: @gemmarogers79
Facebook: https://www.facebook.com/GemmaRogersAuthor
Website: www.gemmarogersauthor.co.uk