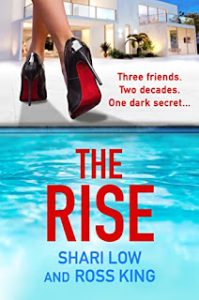 When childhood friends make it out of the tough streets of Glasgow to the red carpet of LA's Oscars, instead of rejoicing in their sucess the friendship that brought them here instantly dissolves.
Rating: ⭐⭐⭐⭐⭐
I found The Rise to be a powerful cautionary tale which shows that getting what you always wanted doesn't guarantee happiness. Trading in their terraced houses for LA mansions and a luxurious lifestyle, the three battle with constantly being in the spotlight and discover that it's a risky place to be. Especially when they have secrets lurking in the shadows.
I was gripped from the start, eager to know the secret that divided these three friends. The setting is spectacular, and having briefly visited LA several years ago, I was instantly transported back there. The Rise deals with some really tough topics in a sensitive and realistic manor and whilst there were some heart-breaking moments, overall, I found it to be an uplifting and inspiring take of resilience and friendship.
Book Blurb
When we bury our secrets, they always come back to haunt us…
Their rise was meteoric.
Only a few years before, they had been three friends from Glasgow, just trying to survive tough lives of danger and dysfunction.
But on one Hollywood evening in 1993, they were on the world's biggest stage, accepting their Oscar in front of the watching world.
That night was the beginning of their careers. But it was also the end of their friendship.
Over the next twenty years, Mirren McLean would become one of the most powerful writers in the movie industry.
Zander Leith would break box-office records as cinema's most in-demand action hero.
And Davie Johnson would rake in millions as producer of some of the biggest shows on TV.
For two decades they didn't speak, driven apart by a horrific secret.
Until now…
Their past is coming back to bite them, and they have to decide whether to run, hide, or fight.
Because when you rise to the top, there's always someone who wants to see you fall.
An exciting new glam thriller for the fans of Taylor Jenkins Reid, Liane Moriarty and Jo Spain
Purchase Link – https://amzn.to/3Ok6XJo
Author Bio
Shari Low and Ross King MBE is a writing partnership forged in a friendship of over 30 years. Scottish author Shari is the bestselling writer of over thirty novels including bestsellers My One Month Marriage, One Summer Sunrise and The Story of our Secrets. Los-Angeles-based Ross King is a four times news Emmy award-winning TV and radio host, actor, producer, writer and performer, and is currently the Los Angeles correspondent for ITV's Lorraine and Good Morning Britain. They are publishing their Hollywood thriller trilogy with Boldwood, the first of which is called The Rise and is due for release in September 2022.
Social Media Links
Shari Low:
Facebook: https://www.facebook.com/sharilowbooks/
Twitter: https://twitter.com/sharilow
Instagram: https://www.instagram.com/sharilowbooks/
Newsletter Sign Up: https://bit.ly/ShariLowDropbox
Bookbub profile: https://www.bookbub.com/authors/shari-low
Ross King:
Facebook: https://www.facebook.com/ross.king.771
Twitter: https://twitter.com/TheRossKing
Instagram: https://www.instagram.com/therossking/