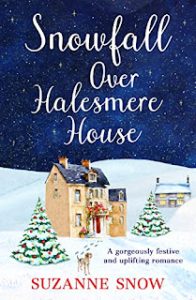 A heart-warming tale of learning to live despite overwhelming loss and trying to find a space for yourself as an individual, with your own needs and hopes.
Rating: ⭐⭐⭐⭐⭐
I love Suzanne's Thorndale series, and couldn't wait to read her latest novel, Snowfall Over Halesmere House. I was particularly intrigued as it is set in the beautiful Lake District, which is somewhere I have always wanted to visit, but haven't managed to get to yet.
The setting is as enticing as I'd imagined, making me long to visit even more. And the characters are so vibrant and relatable. Having packed my bags and relocated to a new place where I had no family and no job, Snowfall Over Halesmere House brought back a lot of memories for my own journey, and whilst our reasons were different, I could totally relate and admire the courage it took for Ella to leave her successful career in search of herself.
The difficult topics were handled extremely well, creating an uplifting captivating story.