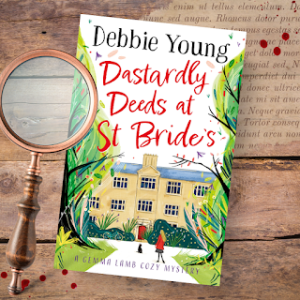 I write cozy mysteries rather than psychological thrillers, but my books have more in common with Alex Stone's than you might expect.
Firstly, I have unreliable female narrators, Gemma Lamb and Sophie Sayers. They are new to their environments – a girls' boarding school for Gemma, and a nearby Cotswold village for Sophie (they meet occasionally in each other's novels, and I have fun with that!) – and so we see their adoptive communities through their eyes. They arrive with misconceptions and misunderstandings which are only resolved as the stories unravel. We learn as they learn.
Although as cozy mysteries, my novels are necessarily light-hearted, feel-good "up-lit", beneath the surface lie darker themes that one might equally find in psychological thrillers. For example, Gemma and, to a lesser extent Sophie, are starting afresh after leaving controlling boyfriends. Dysfunctional and sociopathic characters crop up in various stories, causing chaos. There are also crimes in every story, though not always murders and never grisly ones. I couldn't bring myself to introduce dead bodies to a school setting, at least not during term-time. (In the seventh Sophie Sayers adventure, Murder Lost and Found, a dead body is left in the village school's lost property cupboard, but only during the summer holidays, when there are no children on the premises.) At heart, I'm a reluctant murderer.
There are also plenty of differences between my books and psychological thrillers. There is no graphic violence or explicit sex. All the murders are neat and tidy, sometimes taking place "off stage" to protect the more sensitive reader. Happy endings for the central characters are a must. The stories are predominantly light-hearted. One reviewer described my books as "a chuckle on every page", and although that's a bit of an exaggeration, there is plenty of comedy, including witty word play and book-related jokes, not least because Gemma is an English teacher and Sophie works in a bookshop. I confess I often make myself laugh while I am writing. (My editor reported that her face ached from smiling so much after reading a chapter in which Gemma teaches the youngest girls in the school to play Scrabble.) Overall, my books are easy, relaxing, quick reads – the antidote to the stress and drama of a psychological thriller, in a way, or indeed to reading gloomy books such as Thomas Hardy's. (I love Hardy, but need to alternate with upbeat books when I read him to revive my spirits!) I suppose the author of psychological thrillers might say that their books are an antidote to the unrelenting jollity of mine!
My back catalogue of nine novels is currently being reissued by Alex's publisher, Boldwood Books, so it will be a few months before they're all available in their new editions. Therefore I'll tell you today about the first of the new editions, Dastardly Deeds at St Bride's (previously published as Secrets at St Bride's), which is now available in ebook, paperback and audio.
This is Gemma Lamb's first adventure. After seven years of living with her possessive boyfriend Steven, during which he's cut her off from her parents and prevented her from working in her chosen profession as a teacher, she finally musters the courage to flee while he's away on business. Financially dependent on him and living in his flat, she must find a job that comes with its own accommodation, in a safe setting where he cannot reach her. But where to go?
Reluctantly ruling out lighthouse-keeping when she discovers all lighthouses are now automatic, to her surprise and delight she lands a post as an English teacher at a remote boarding school for girls, housed in a secure and sumptuous private estate in the Cotswolds. She soon realises that not all is as calm and orderly as the strict school rules suggest. All of her colleagues are hiding guilty secrets. Before long, Gemma turns amateur sleuth, and in each instalment in the series, it is Gemma's actions that ultimately avert tragedy and disaster. In every adventure, Gemma must save the school to secure her job and her new-found freedom. By the end of the first book, and in every subsequent story, Gemma gradually rebuilds her sense of self and her confidence, and she even finds a new romance in the most unlikely place. She is also reconciled with her parents. Family relationships are an important in all my novels, and the repair of fractured families is a recurring theme in each Gemma Lamb adventure, for adults and children alike.
The sequel, Sinister Stranger at St Bride's (previously published as Stranger at St Bride's), will be out on 11 th October, followed by the all-new Wicked Whispers at St Bride's on 14 th November. A new book will added to each of my series every year. Each novel can be read as a standalone, but if you read them in order, you'll be rewarded by the wider story arc. To receive notification whenever Boldwood releases a new book of mine, please sign up at https://bit.ly/DebbieYoungNews.
AUTHOR BIO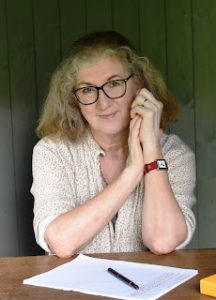 I write warm, witty, feel-good contemporary fiction full of English humour, inspired by life in the Cotswold village which has been my home for over 30 years. Originally self-published, in 2022 I was delighted to win a 13-book contract with the multiple-award-winning Boldwood Books for my novels, a 7-book audio contract with Saga Egmont, and a German rights deal with DP Verlag. Two of my novels – one in each series – were shortlisted for the Bookbrunch Selfies Award, one in 2020 and the other in 2021.
I also write comedy mystery novelettes set in the same world as the Sophie Sayers Village Mysteries. The first of my Tales from Wendlebury Barrow, The Pride of Peacocks, is available exclusively to members of my Readers' Club (sign up at www.authordebbieyoung.com to receive a download link for your free copy). The Natter of Knitters and The Clutch of Eggs are available in ebook and paperback. More stories in this series will follow. I have also published a rom-com novella, Mrs Morris Changes Lanes, a second-chance mid-life romantic comedy with a touch of magical realism, set in the Cotswolds in Spring. I've penned three collections of short stories, and a number of my short stories have also been included in anthologies such as LJ Ross's Everyday Kindness.
When I'm not writing, I love taking part in litfests and speaking to book groups and writers' groups. In 2015, I founded the Hawkesbury Upton Literature Festival in my home village in the Cotswolds. The Festival now takes the form of a year-round series of talks on different themes and genres, each featuring at least three guest authors, with me in the chair. (See www.hulitfest.com for more details.) I'm also a frequent judge of writing competitions, a course tutor at Jericho Writers, and I write humorous columns for two monthly Cotswold community magazines.
I may be busy, but I am never too tired to curl up with a good book.
Connect with me at:
Website: www.authordebbieyoung.com
Facebook: www.facebook.com/AuthorDebbieYoung
Instagram: www.instagram.com/DebbieYoungAuthor
Twitter: www.twitter.com/DebbieYoungBN
Bookbub: www.bookbub.com.authors/debbie-young/
Boldwood newsletter: https//bit.ly/DebbieYoungNews