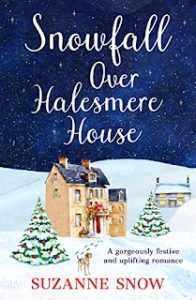 My writing is inspired by a deep love of landscape, romance and rural life, and these themes are in each of my books. I grew up with horses and I love being outdoors to observe and appreciate the differing elements of the seasons. As a gardener, spring is my favourite time of the year because it's so fresh and abundant with new life and hope. Seven years ago I retrained as a horticulturist and spent five seasons planting redesigned gardens, which was both challenging and an absolute pleasure.
The charity Thrive, which uses social therapeutic horticulture to change lives, highlights five ways gardening can help with wellbeing. These include Connect and Take Notice. Working together in a garden can help reduce social isolation and grow people's confidence as they spend time in an outdoor environment. The character of Flora in my second book, The Garden of Little Rose, part of the Welcome to Thorndale series, is a garden historian and she's invited to view a rather dilapidated school garden. There she mees Tamsin, a little girl living with devastating loss, and a connection is born which will change both of their lives. Flora is passionate about the difference gardens can make, and it's through this belief that Tamsin finds some hope to cling to.
My writing life is a joy and I'm very grateful for the opportunities to publish my books and find new readers. As I've researched my second series, Love in the Lakes, I've realised that sometimes I've become too busy to notice what's happening outdoors. Snowfall Over Halesmere House is the first book in the series, and introduces Ella and Max, who are relaunching a holiday business with a focus on wellness and local craftspeople. As the series moves on, this ethos is proving popular with guests as they find ways to step back from the busyness and noise of everyday life.
The Japanese process of relaxation known as shinrin yoku, translated as forest bathing, is simply a means of being quiet and calm outdoors, breathing deeply and using our senses to observe, or Take Notice, of the natural world around us. Perhaps that's birdsong, or the feel of bark against fingers, the pungent smell of wild garlic in spring or bluebells vibrant and bright with colour. I know that each of these small observations lift my spirits and I'm learning to appreciate nature in new ways. I walk more slowly, making a conscious effort to enjoy dahlias still flowering, the scent of a shrub or the fiery shades of leaves on a tree, which this year seem to be lasting longer. Or perhaps I'm just taking more notice.
Certainly for me, seeing the appreciation clients had for the transformation of a garden they weren't sure how to manage was wonderful. Untidy spaces became much-loved extensions of the house, a place to share with others and to nurture. To paraphrase Flora in The Garden of Little Rose, it's not about the size of the garden you make. It's about what you do with it and how it makes you feel. From herbs to house plants, planting a tree or harvesting your own potatoes grown in a bag on a patio and everything in between, each is uplifting and can boost our wellbeing. Our natural world is extraordinary, and I love writing characters who learn to appreciate its benefits and beauty as they connect with one other and the landscape around them.
Author Biography
Suzanne writes contemporary and uplifting fiction with a vibrant sense of setting and community connecting the lives of her characters. A horticulturist who lives with her family in Lancashire, her books are inspired by a love of landscape, romance and rural life.
Her first novel in the Thorndale series, The Cottage of New Beginnings, was a contender for the 2021 RNA Joan Hessayon Award and she is currently writing the Love in the Lakes series for Canelo. Suzanne is a member of the Romantic Novelists Association and the Society of Authors.