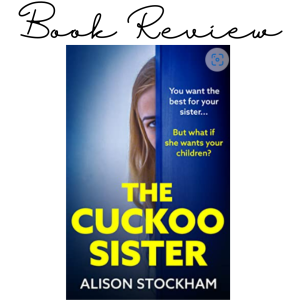 Beautifully poignant and utterly compelling.
Rating: ⭐⭐⭐⭐⭐
My Review
The Cuckoo Sister is a heart-breaking story of post-natal depression and a mother whose struggle is completely overlooked by those around her.
Maggie's inner torment was described so well that I could really empathise with her battle and understand the overwhelming fear that led her to make the most painful decision. But all decisions carry consequences, and the author gives us a powerful insight into the repercussions of Maggie's actions on her family as they deal with the aftermath of her choice.
Maggie's sister, Rose, steps in to care for her niece and nephew during Maggie's absence. She's simply being a good sister and aunt, isn't she? Or is the temptation of ready-made family too much to resist?
It's a deeply thought-provoking novel, which enables you to see all sides of the story and empathise with the impact one decision has had on everyone involved.
About The Cuckoo Sister
You want your sister to have all her heart desires.
But – what if she wants your children?
Maggie has everything her sister Rose always wanted. A handsome husband and two adorable children, Emily and Elliot.
But what Rose doesn't see is that Maggie is struggling. Every day is a fog of sleep loss and mess made by two tiny children. Left alone in her distress by husband Stephen, Maggie drifts ever closer to the edge.
When Maggie finally cracks, walking out one day and not returning, Rose is right there to step into the breach . . .
You trust your sister to look after your children. But should you?
Buy on Amazon