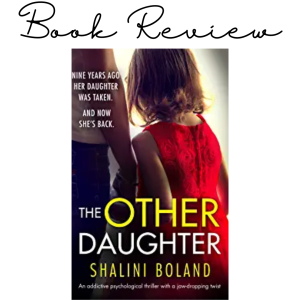 Such a clever, compelling story, with a twist I didn't see coming.
Rating: ⭐⭐⭐⭐⭐
My Review
I flew through this book desperately rooting for Rachel to find a way to put her family back together again.
Shalini Boland is a skilled writer. She creates such believable characters, who capture your attention and emotions. The novel examines a difficult topic as you experience the trauma and dilemmas that the characters face.
One that stayed with me long after I'd finished reading.
About the Book
Nine years ago her daughter was taken. And now she's back.
Two-and-a-half-year-old Holly is playing happily in a pink plastic playhouse, while her mother Rachel sips coffee and chats with a friend nearby. It should be an ordinary day for all of them. But, in the blink of an eye, it turns into every family's worst nightmare.
Holly is taken by a stranger and never found.
Nine years later, Rachel is doing her best, living a quiet life in Dorset. She's tried to forget the traumatic day when she lost her daughter, hide her broken heart and put everything into her new family and loving partner, who know none of the secrets in her painful past.
Until one afternoon when Rachel meets a new school parent and her beautiful teenage daughter. Rachel's world is instantly turned upside down. She'd recognise that face anywhere – it's her missing child.
Rachel is overwhelmed with joy – and fear. Has the woman who abducted Holly followed her? How will her partner react when he learns about the trauma she has hidden for so many years? And given how much time has passed, what if no one believes her?
But Rachel knows it's Holly. And she will stop at nothing to get her back…
Buy on Amazon