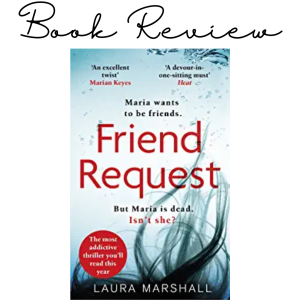 A chilling mystery showing there can be multiple sides to people you think you know well.
Rating: ⭐⭐⭐⭐
A well written mystery, full of twists and turns which highlight the long term impact of school bullying.
Having carried the guilt of her secret for twenty-five years, Louise is stunned when she receives a friend request from a girl she thinks is dead.
Book Blurb
Maria Weston wants to be friends with me
Maybe that had been the problem all along: Maria Weston had wanted to be friends with me, but I let her down.
She's been hovering at the edge of my consciousness for all of my adult life, although I've been good at keeping her out, just a blurred shadow in the corner of my eye, almost but not quite out of sight.
Maria Weston wants to be friends.
But Maria Weston has been dead for more than twenty-five years.
Purchase Link – Friend Request: The most addictive psychological thriller you'll read this year eBook : Marshall, Laura: Amazon.co.uk: Kindle Store