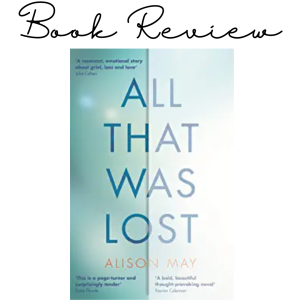 I'm a huge fan of Alison May's romantic fiction and this is definitely a change in pace, but wow, the result is an incredibly moving and powerful novel.
I read All That Was Lost in one day. Well, technically it may have been gone midnight when I reached the end, but as I couldn't sleep until I'd finished it, to me that still counts as one day! It's not often that a book can keep me up at night, but Patience's story drove all sleepiness from my brain, kept my eyes wide open and my gaze firmly fixed on the kindle screen, while tears streamed down my cheeks. And yes, I do mean streamed. Alison didn't just bring a tear to my eye with this one.
All That Was Lost is definitely a story about loss, but it's beautifully told. I felt such a connection to the characters and they stayed with me long after I'd finished reading. 
An amazing, emotional, 5 star read.